65" SunbriteTV SB-S2-65-4K-BL Signature 2 Outdoor LED HDR 4K TV
---
Literature
Weatherproof 65-inch outdoor 4K HDR television - SunBriteTV Signature 2 Series for partial-sun and high ambient light applications such as patio, deck, yard.
Why is Signature 2 the top pick for watching TV outside in partial sun and high ambient light?
Up to 3 times brighter than indoor TVs, this all-weather television improves the viewing experience in brighter outdoor environments. The commercial-grade screen with direct LED backlight and TruVision™ anti-glare technology delivers an ultra-bright (700 NIT) picture with 4K resolution. The dramatic picture detail and full High Dynamic Range (HDR) support offer amazing contrast and vibrant colors.
Built for permanent outdoor installation, the sleek thin-bezel design adds style while the durable aluminum (not plastic) casing protects against weather and insects. Safe and superior performance from winter to summer (-24°F to 122°F outside temperatures).
SunBriteTV's OptiView™ provides pre-configured daytime/nighttime settings for optimal viewing any time of day.
Built-in HDBaseT receiver with IR repeater - A clean, affordable option for receiving up to 4K UHD resolution video and control over a single Ethernet cable, and complete integrated IP control makes it easier to add to control systems.
What is included with the Signature 2 television?
Two-year parts/labor warranty
Weatherproof remote control
Operator's manual
Why SunBrite's 65" Signature 2 is recommended for mounting outdoors
A 4K UHD high-brightness (700NIT) commercial-grade anti-glare screen
At up to 3X the brightness of typical indoor televisions, this premium screen offers a prime viewing experience in the indirect sunlight and high ambient light conditions often encountered outdoors.
High Dynamic Range (HDR)
HDR support brings amazing contrast and vibrant colors to partial-sun outdoor spaces
OptiView™Technology
Preconfigured settings optimized for brighter daytime or darker nighttime outdoor viewing environments.
Built-in HDBaseT Receiver
An integrated HDBaseT receiver is now standard equipment with every new SunBriteTV Signature 2 Series, allowing transmission of ultra-high-definition video, audio and control over a single, long-distance category cable.
Outdoor Safe
Safe for outdoor placement & use. Indoor TVs are not safe, or warrantied, for outdoor use.
Extreme Temperature Functionality
Dispersive temperature regulation system allows operation in low temperatures from -24°F and high temperatures up to 122°F (Storage temperature from -24℉ up to 140℉).
Sound Bar Not Included
The new Signature 2 Series does not include built-in speakers. We offer a 20 WATT all-weather sound bar as an optional accessory, or pair your new SunBriteTV Signature 2 Series with your own home audio system.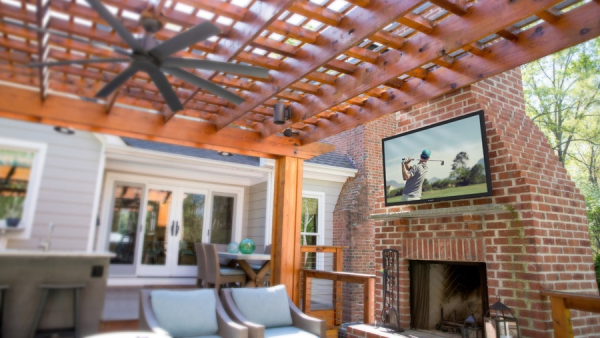 What is the model number for the 65" Signature 2?
SB-S2-65-4K
What type of screen is on the SunBrite Signature 2 TV?
Direct LED backlight and anti-glare technology delivers ultra-bright, dramatic picture detail with 4 times the resolution of Full HD with full HDR (High Dynamic Range) support.
Can this TV be used outdoors in bright light?
Signature 2 is designed for high-ambient light, so partial or filtered sun exposure. With up to 3 times brightness and anti-glare screen compared to indoor TVs, this SunBrite model makes viewing easy during daytime. For direct-sun installations, see our Pro Series outdoor TVs.
How do you adjust daytime vs nighttime viewing brightness?
SunBrite's unique OptiView™ Day and Night modes means optimized picture quality settings preconfigured for the ultimate outdoor viewing experience with a single touch.
Is SunBrite Signature 2 safe for outdoors?
SunBrite sensitive internal components are enclosed in powder-coated rust-proof aluminum exterior for protection from rain, snow, dust, insects, humidity, and salt air. Plus, the innovative weather-tight cable entry system seals out moisture and allows for easy hook-ups.
Can outdoor televisions be kept outside all year?
Outdoor-safe, built for permanent outdoor installation. Unlike indoor TV manufacturers that prohibit outdoor use (just check the manual, this will often void the warranty and risk your family's safety), SunBriteTV's warranty covers outside use.
What temperature can the Signature 2 TV series withstand?
Temperature regulation system allows operation in low temperatures from -24°F and high temperatures up to 122°F (Storage temperature from -24°F up to 140°F).
Can the remote stay outside when not in use?
Includes weatherproof remote control.
How to prevent unauthorized use or change of settings?
Remote Control Lock-Out prevents unauthorized users from changing the programming
What is the warranty for the SunBrite Signature 2 outdoor TV?
Includes Two Year Parts & Labor Warranty.
Key Features
Screen
65-inch Diagonal Color Active Matrix TFT LED with HDR - Partial Sun
Resolution
3840 x 2160 UHD
Aspect Ratio
16:9
Contrast Ratio
4000:1
Frame Rate
60Hz
Viewing Angle
178 °x 178 °
Response Time
6.5 milliseconds
TV formats
2160p, 1080p, 1080i, 720p, 720i, 480p, 480i
Input Connectors
RF
Antenna/CATV (ATSC/QAM/NTSC) x1
HDBaseT Connections
Up to 4K 3840 x 2160 @ 30hz
HDMI
HDMI™ Input x2 (HDMI 1.4, HDMI 2.0, HDCP 2.2) 3840 x 2160 @ 60hz
Control Set
IP Control, RS232 Serial, Discrete IR Control, Concealed rear IR Window
Audio Out
Digital Optical Toslink (Fixed) / Analog 1/8" headphone jack (Variable)
Speakers
Optional 20 WATT speaker bar (not Included) This model *does not include* built-in speakers.
Input Power
100-240 VAC, 50-60 Hz 2.8 A Max (270 Watts/2.3a@120v)
VIDEO COMPONENT
YPbPr plus Stereo Audio x1
RGB INPUT
VGA DB15hd (up to 1920x1080)
Key Features
Operating Temperature
-24° to 122° F. (-31° to 50°C.)
Non-op. Temp
-24° to 140° F. (-31° to 60°C.)
VESA Mounting Pattern
400mm x 400mm
TV Dimensions
3.57 in. D x 33.63 in. H x 58.03" in. W
Shipping Dimensions
11 in. D x 42.5 in. H x 66 in. W
Accessories Included
Weatherproof Remote Control
Exterior
Powder-coated aluminum
Exterior Colors
Black, Silver, White
TV Weight
66 lbs (29.94 kgs)
Shipping Weight
85 lbs (38.56 kgs)
Residential Warranty
Two year parts & labor
Commercial Warranty
Two year parts & labor